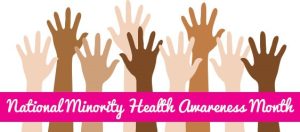 Mental health includes our emotional, psychological, and social well-being. It affects how we think, feel, and act, and helps determine how we handle stress, relate to others, and make choices.  Mental health issues are common – more than 1 in 5 U.S. adults live with a mental illness.  Mental health issues are treatable and often preventable; however, racial and ethnic minority communities in the U.S. face unique struggles with regard to mental illness.  These communities often suffer from poor mental health outcomes due to lack of access to quality mental health care services, cultural stigma surrounding mental health care, discrimination, and overall lack of awareness about mental health.  Experiencing or witnessing racial discrimination or racial violence can cause stress and trauma that impact mental health and emotional well-being.
Data shows that in 2021 only 39% of Black or African American adults, 25% of Asian adults, and 36% of Hispanic/Latino adults with mental illness were treated, compared to 52% of non-Hispanic white adults.  Equally concerning is the fact that, in 2020, suicide was the leading cause of death among Asian Americans and Pacific Islanders aged 10 to 19 and was the second leading cause of death among those aged 20 to 34.
Mental health equity is the state in which everyone has a fair and just opportunity to reach their highest level of mental health and emotional well-being.  We all have a role to play in promoting health equity.  You can help by sharing information on mental health, healthy coping skills, and resources with family, friends, neighbors, and others in your community.  You can also use non-stigmatizing language when talking about mental health and encourage community and faith-based leaders to discuss mental health issues openly to help further reduce stigma.  Work to elect decision-makers that reflect the races and ethnicities of your community's population.
For more information or access to mental health resources, visit the Centers for Disease Control and Prevention at www.cdc.gov, the U.S. Department of Health and Human Services at www.hhs.gov or the National Alliance on Mental Illness at www.nami.org.